Scheepjes presenteert de Rozeta CAL,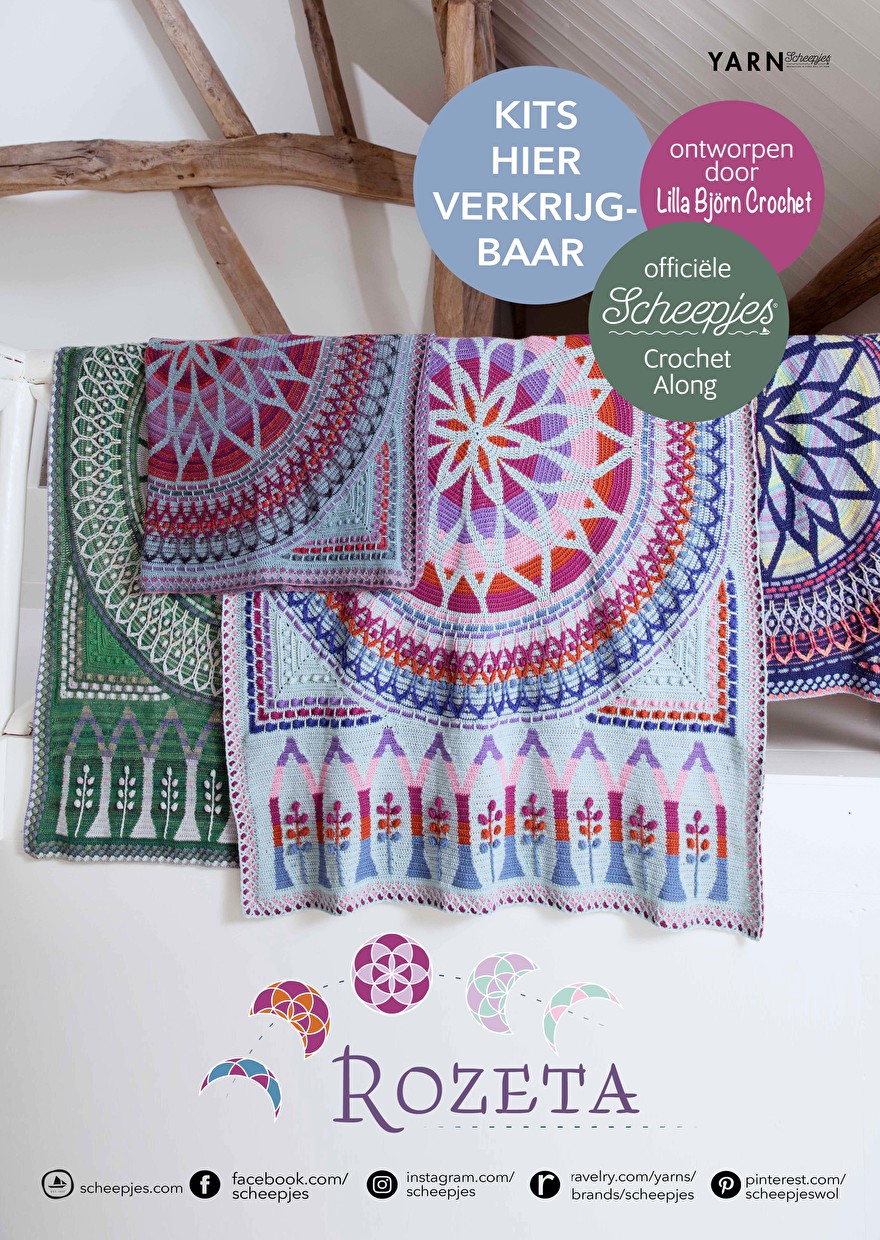 LET OP!! Belangrijke informatie over de Rozeta Kits.

Ontworpen door Tatsiana Kupryianchyk van Lilla Björn Crochet.
Het ontwerp voor deze prachtige rechthoekige deken is geïnspireerd op de roosvormige raampartijen in gotische gebouwen en hoe gedurende de dag het licht hier doorheen valt.
Tijdens de CAL haak je de prachtige Rozeta CAL deken. De CAL is gestart op 9 oktober, maar je kunt nog steeds meedoen. Je kunt het volgen via de OFFICIAL Scheepjes Facebook groep. Het patroon wordt verspreid over 11 weken gepubliceerd en kan gratis gedownload worden via Scheepjes.com
Scheepjes heeft dé officiële complete kits voor deze CAL samengesteld, inclusief het benodigde garen!
Er zijn 8 keuzes mogelijk.
Dawn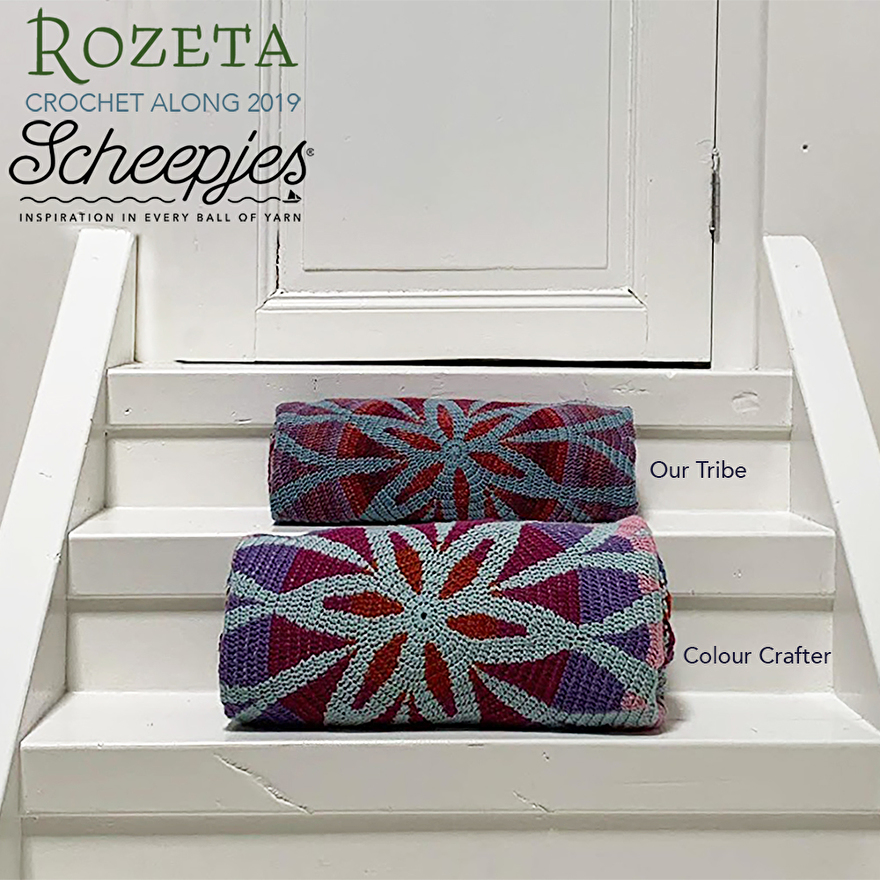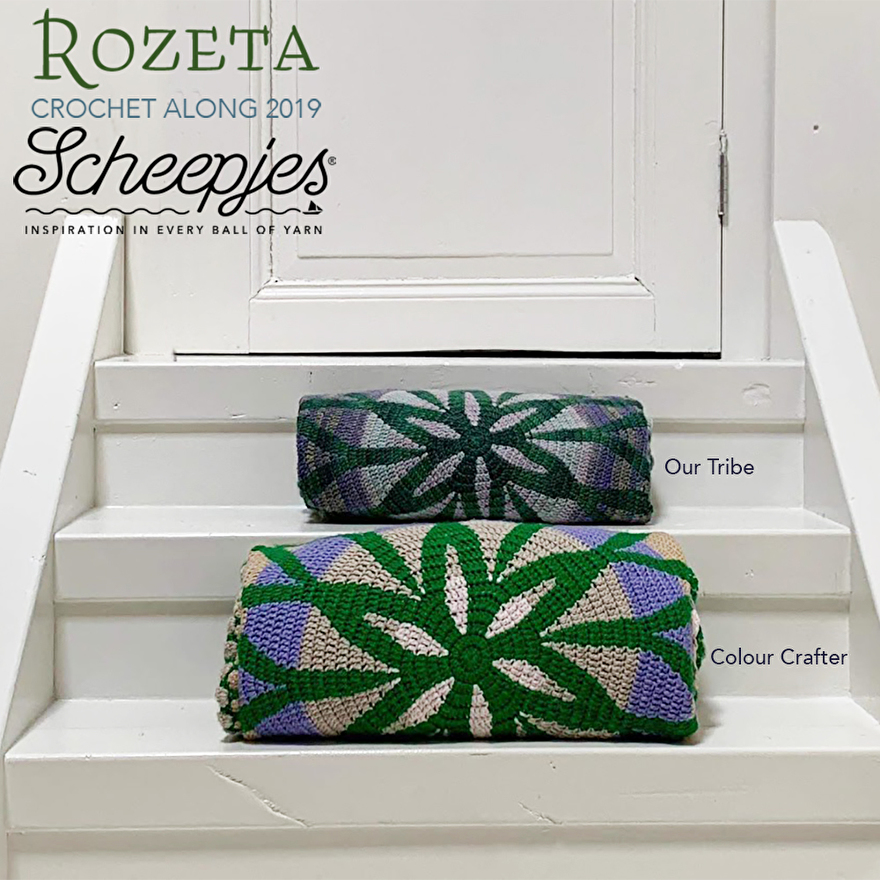 Dusk
Midnight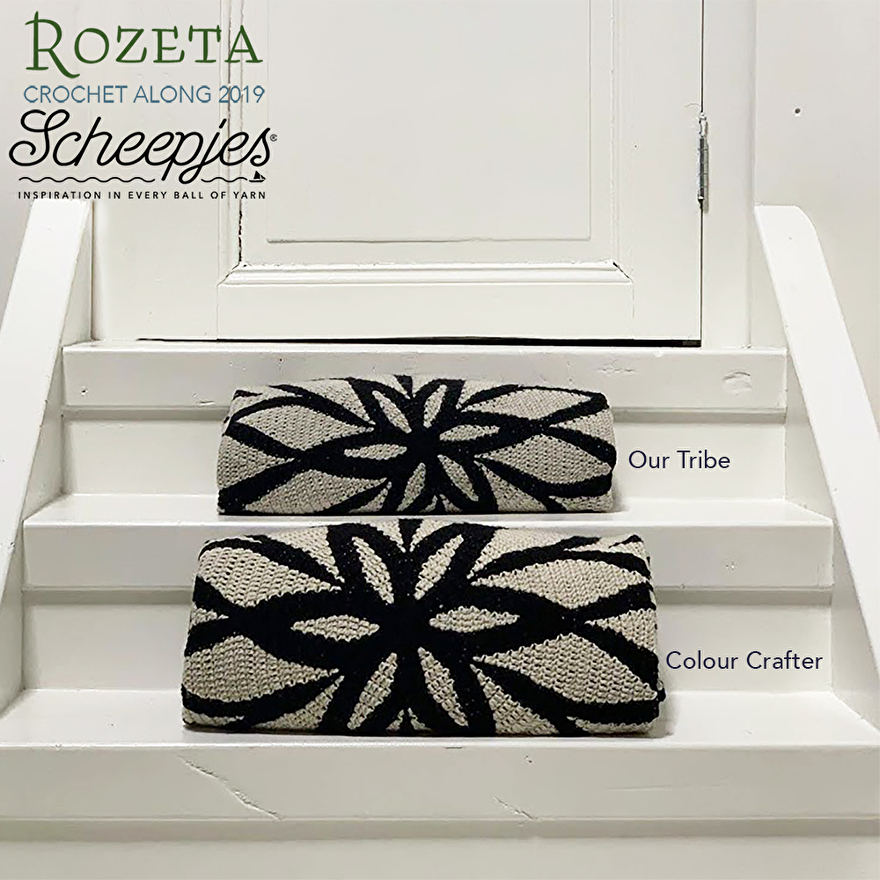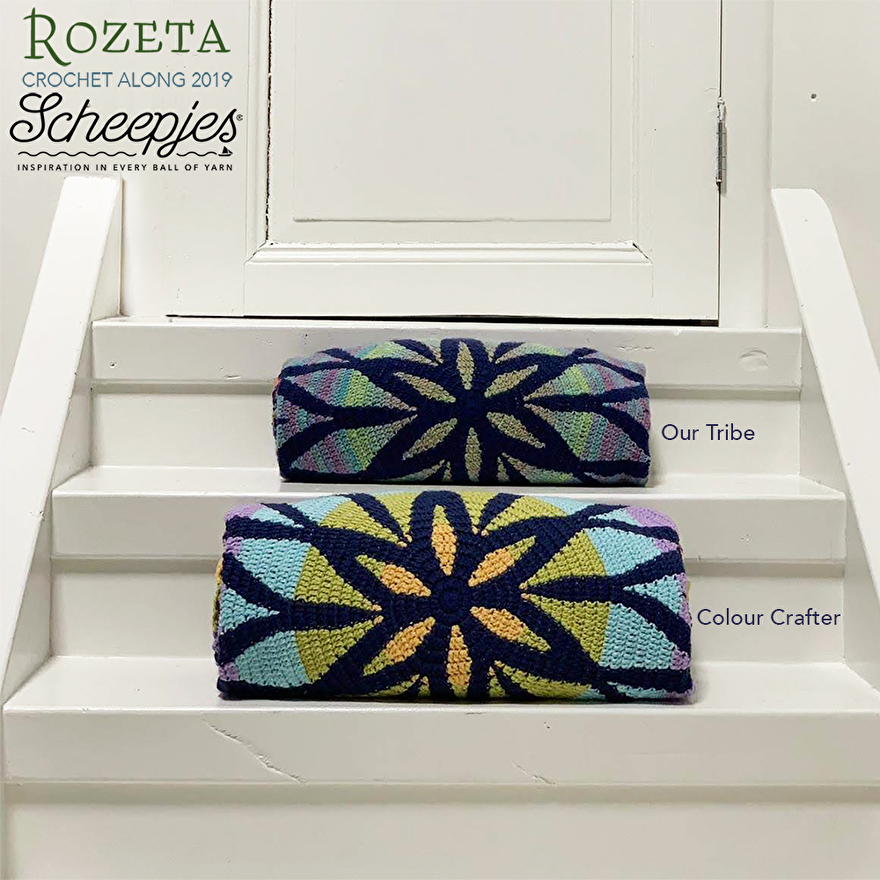 Twilight
Er zijn 4 varianten Colour Crafter CAL kits, samengesteld uit Scheepjes Colour Crafter garen (100% Premium Acryl, yarn weight DK) en
4 varianten Luxe CAL Kits, samengesteld met Scheepjes Our Tribe garen (70% Merino Superwash, 30% Polyamide, yarn weight Sport). Deze Luxe Cal Kits met Scheepjes Our Tribe bevatten bovendien een special edition projecttas!
Het patroon voor de Officiële Scheepjes CAL 2019 maakt gebruik van tapestry en overlay haaktechnieken en is geschreven voor avontuurlijke beginners. De video's van Esther van It's All in a Nutshell en de steun van de leden in de Official Scheepjes Facebook-groep, de Nederlandstalige groep telt er inmiddels 34.000, geven nét dat beetje extra support.
De Rozeta CAL Luxury Kit bevat:
11 bollen Scheepjes Our Tribe (De variant Midnight bevat slechts 10 bollen)
1 Officiële Rozeta leatherlook label
1 houten ornament
1 streng DMC borduurgaren
1 borduurnaald
1 special edition projecttas
De Rozeta CAL Kit bevat:
15 bollen Scheepjes Colour Crafter (De variant Midnight bevat slechts 13 bollen)
1 Officiële Rozeta leatherlook label
1 houten ornament
1 streng DMC borduurgaren
1 borduurnaald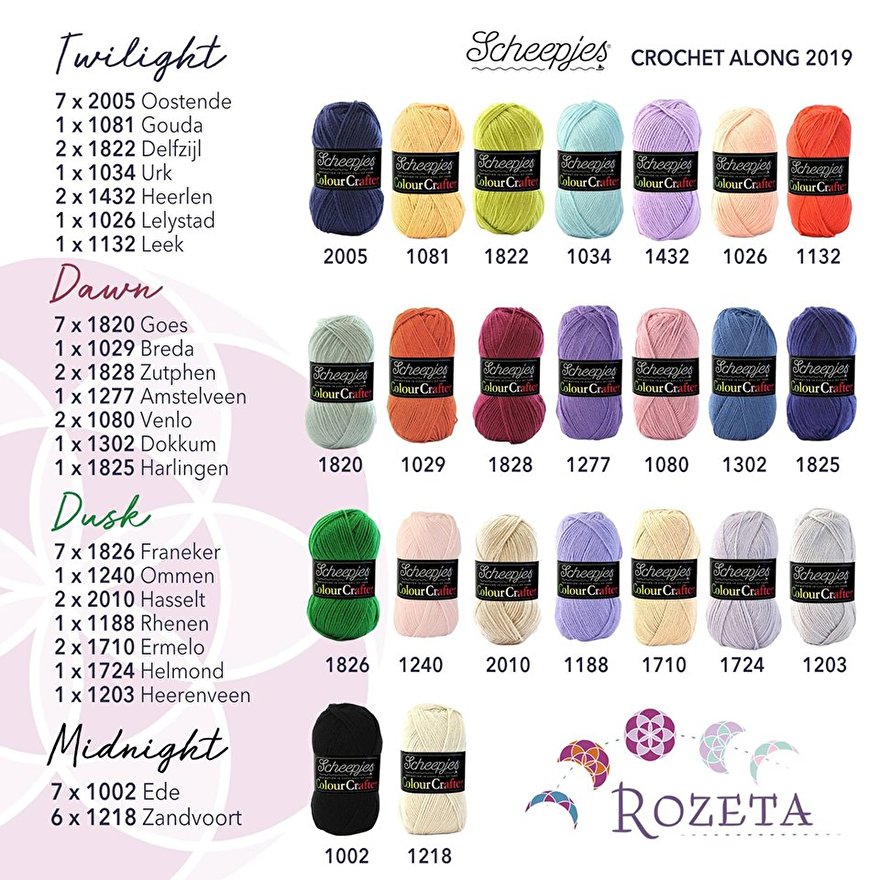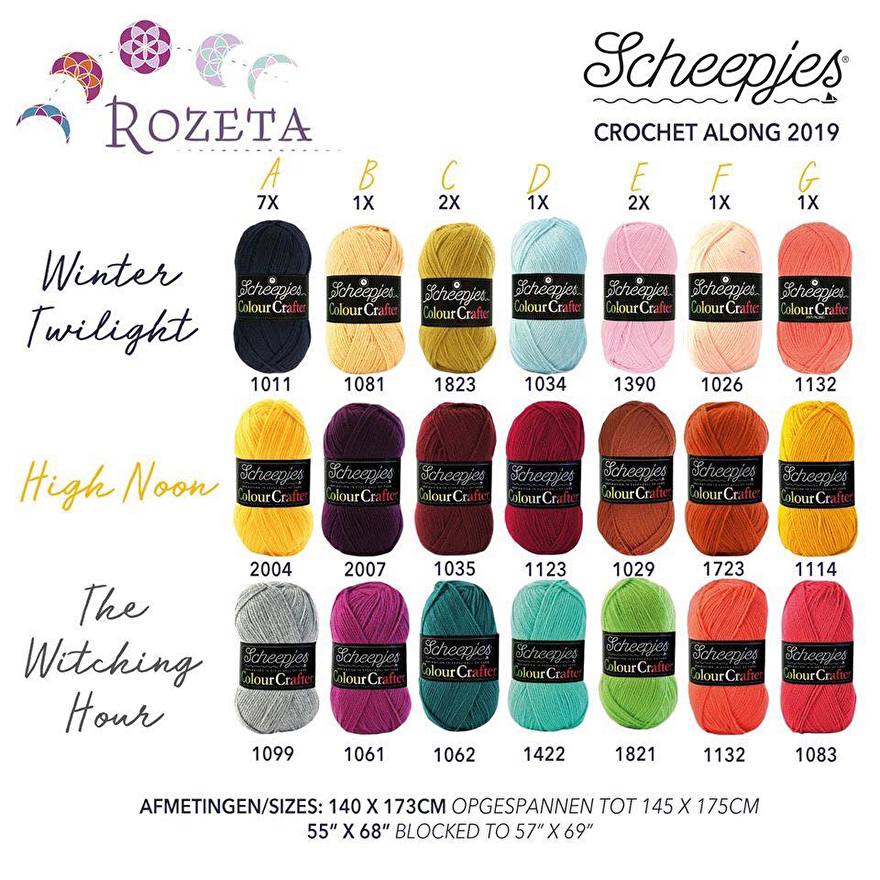 Je kunt ook zelf je kleuren samenstellen. Heb je hulp nodig of kun je iets niet vinden? Mail ons even op info@knotje.nl
Voor de losse bollen Colour Crafter klik hier
De belangrijkste feiten op een rijtje:
Start CAL: 9 oktober 2019
Duur: 11 weken
Je kunt op elk moment instappen, de patronen blijven beschikbaar.
Gebruikte garens: Our Tribe (luxury kit) of Scheepjes Colour Crafter
Afmetingen Rozeta deken met Our Tribe: ca. 115 x 145 cm (opgespannen tot ca. 118 x 148 cm)
Afmetingen Rozeta deken met Colour Crafter: ca. 140 x 173 cm (opgespannen tot ca. 145 x 175 cm)
Patronen zijn gratis verkrijgbaar via Scheepjes.com en via de Official Scheepjes Facebook group
Er zijn video tutorials beschikbaar van Esther van It's all in a Nutshell
De CAL wordt gehost in de Official Scheepjes groups op Facebook
De patronen zijn verkrijgbaar in Nederlands, UK Engels, US Engels en Duits
De Luxe kit bevat een Special edition Scheepjes projecttas.
Knotje.nl