Over ons,

Wij zijn www.knotje.nl de webwinkel voor al uw garen en handwerk materialen.
In het kort:
Veilig betalen (iDeal, Bancontact, PayPal en vooruit betaling via overschrijving)
Snelle leveringen (Voor 15:00 uur besteld zelfde werkdag verzonden)
Klantvriendelijke site (Makkelijk bestellen via duidelijke foto's)
Persoonlijk (Ja, zelfs via het web) Wij zijn er voor U niet voor onszelf.
Bijna elke dag een inspiratie bericht op Facebook.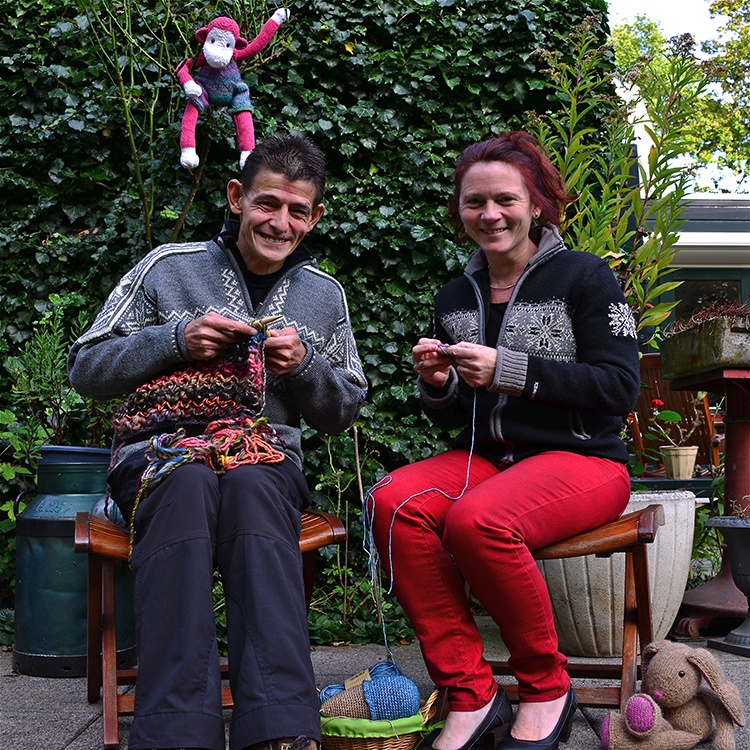 Hallo, wij zijn Albert en Trijntje. Wij zijn deze webwinkel begonnen omdat wij gemerkt hebben dat breien en haken, en in het algemeen handwerken, weer helemaal hot is geworden in de afgelopen jaren. Helaas merken wij ook dat je de echte fysieke wolwinkels met een vergrootglas moet zoeken in ons land. Echt jammer.

Begin september 2014 hebben wij het plan, om een webwinkel te starten, definitief vorm gegeven. Wij hebben het roer helemaal omgegooid nadat we beide zijn gestopt met onze banen, waar we ruim 20 jaar werkzaam in waren, als controller en ict'er. Met onze hobby's, handwerken en de digitale wereld, een uitstekende combi om van deze hobby een echt beroep te maken.
Zo is www.knotje.nl geboren op 18 oktober 2014. De naam was al veel eerder bedacht en dus ook de domeinnaam alvast geregistreerd. In september zijn we echt begonnen met onze webwinkel. Op zoek naar leveranciers en garens, we kunnen je vertellen dat is geen gemakkelijke opgave. Wat vindt de klant leuk? Wij weten wel wat wij leuk vinden maar deze webwinkel is er voor jullie.

In de webwinkel vinden jullie de gangbare garens maar wij proberen ook leuke nieuwe garens uit. Persoonlijk zijn wij helemaal gecharmeerd van Noorse garens en patronen. We zien het hier nog niet zo vaak maar in Noorwegen zie je bijna iedereen breien en of haken in het openbaar. In de jaren dat wij in Noorwegen komen zijn we verliefd geraakt op de Dale garens en Viking of Norway. In de toekomst proberen wij deze garens ook in Nederland te krijgen.

Wij kunnen niet in de toekomst kijken maar als de webshop goed loopt is er zeker een kans dat wij een fysieke winkel gaan beginnen.

De klant is bij ons Koning. Klantenservice staat bij ons hoog in het vaandel. Wij staan open voor al jullie vragen, opmerkingen en tips.

Ook voor kritiek. Wij hebben liever dat we een eventueel probleem samen kunnen oplossen dan dat de klant gaat klagen. Schroom dus niet om in de mail te klimmen. (info@knotje.nl)

Op dit moment hebben wij garen van de volgende merken:
- ISTEX Lopi
- Scheepjeswol
- Katia
- LANG Yarns
- Opal
- ROWAN
- Durable
Natuurlijk bieden wij ook patronen-, brei- en haakboeken en fournituren aan. Hierbij merken wij wel op dat op boeken (wettelijk) GEEN korting mag worden verleend.

Wij wensen jullie heel veel shop plezier bij www.knotje.nl.

Het team van V.O.F. Knotje.nl
Albert en Trijntje.
Knotje.nl