| | | | | | | | | | |
| --- | --- | --- | --- | --- | --- | --- | --- | --- | --- |
| | Veilig betalen | | Snelle levering | | Scherp geprijsd | | Klantvriendelijke site | | Persoonlijk |
Scheepjeswol Softfun Denim
Softfun was al een fenomeen onder de bloggers. Nu presenteert Scheepjes met trots de nieuwste variant: Softfun Denim. Een trendy "gewassen jeans" effect in de kenmerkende superzachte "touch" waar Scheepjes Softfun om bekend staat. Softfun Denim is zo zacht, als je het vastpakt laat je het niet meer los!

Het kleurenpalet biedt elke creatieveling inspiratie: van zachte pastels tot uitgesproken kleurtinten. Scheepjes Softfun Denim is net als Scheepjes Softfun uitermate geschikt voor het breien en haken van kleding, kleding voor baby's en kinderen en knuffels. Of je nu haakt of breit, elk project wordt soepel en zacht.

Dit garen is een echte must have voor het voorjaar.

Softfun Denim is een nieuwe lijn met prachtige kleuren. De zeer zachte draad met een veloursachtige structuur heeft nu een denim look waardoor hij een specifieke uitstraling krijgt. De draad is qua samenstelling identiek aan de standaard Softfun en daardoor prima te combineren. Je kunt er uitstekend mee haken of breien en het geeft een heerlijk zacht resultaat voor bijvoorbeeld een (baby)deken of knuffel.

We hebben alle 21 kleuren op voorraad. Zie hieronder.
60% katoen en 40% acryl.
Het garen is geschikt voor naald 3,5 - 4mm
Steekverhouding 30 st. – 21r = 10 cm
Bollen van 50 gram – ca. 140 meter.

Alle beschikbare kleuren bij elkaar.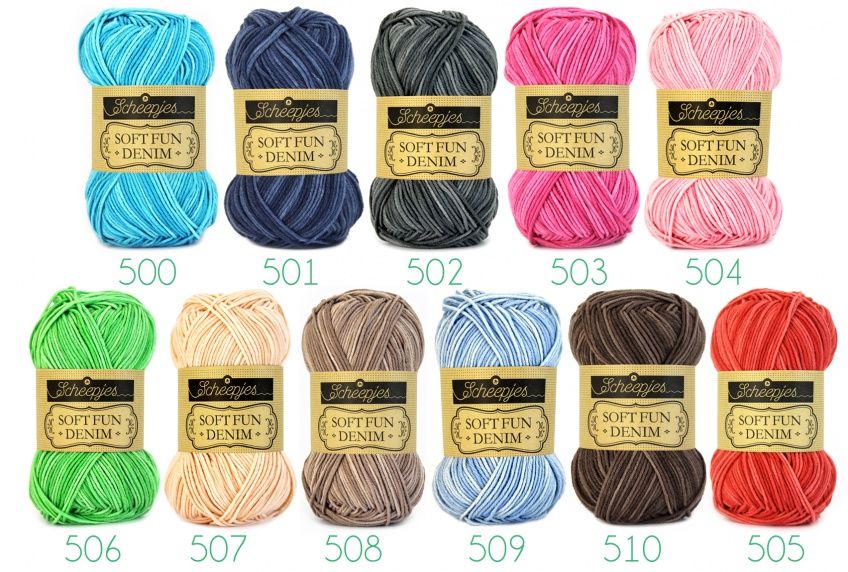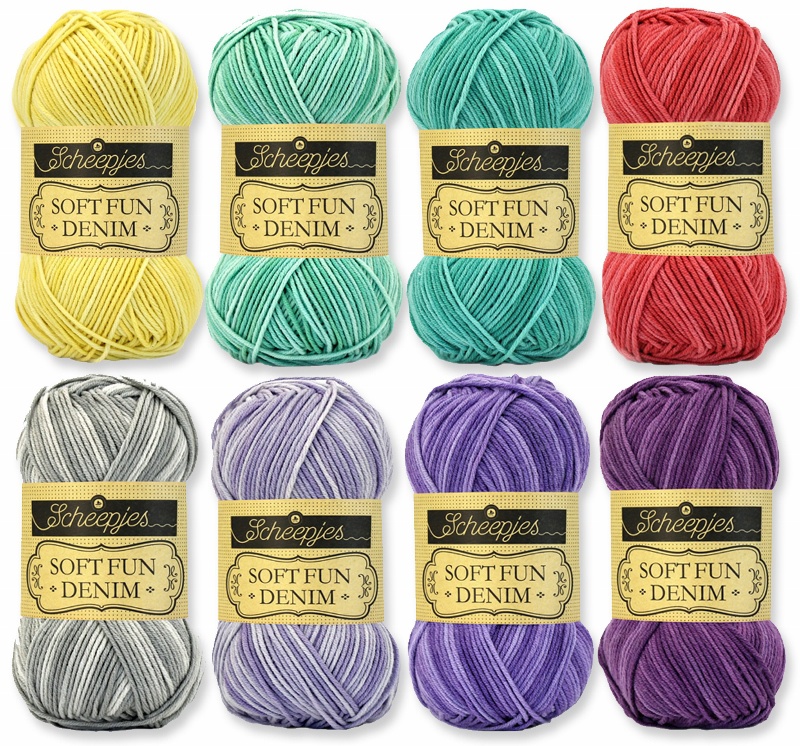 Hier een leuk voorbeeld gemaakt met dit garen. Klik op de foto voor meer informatie: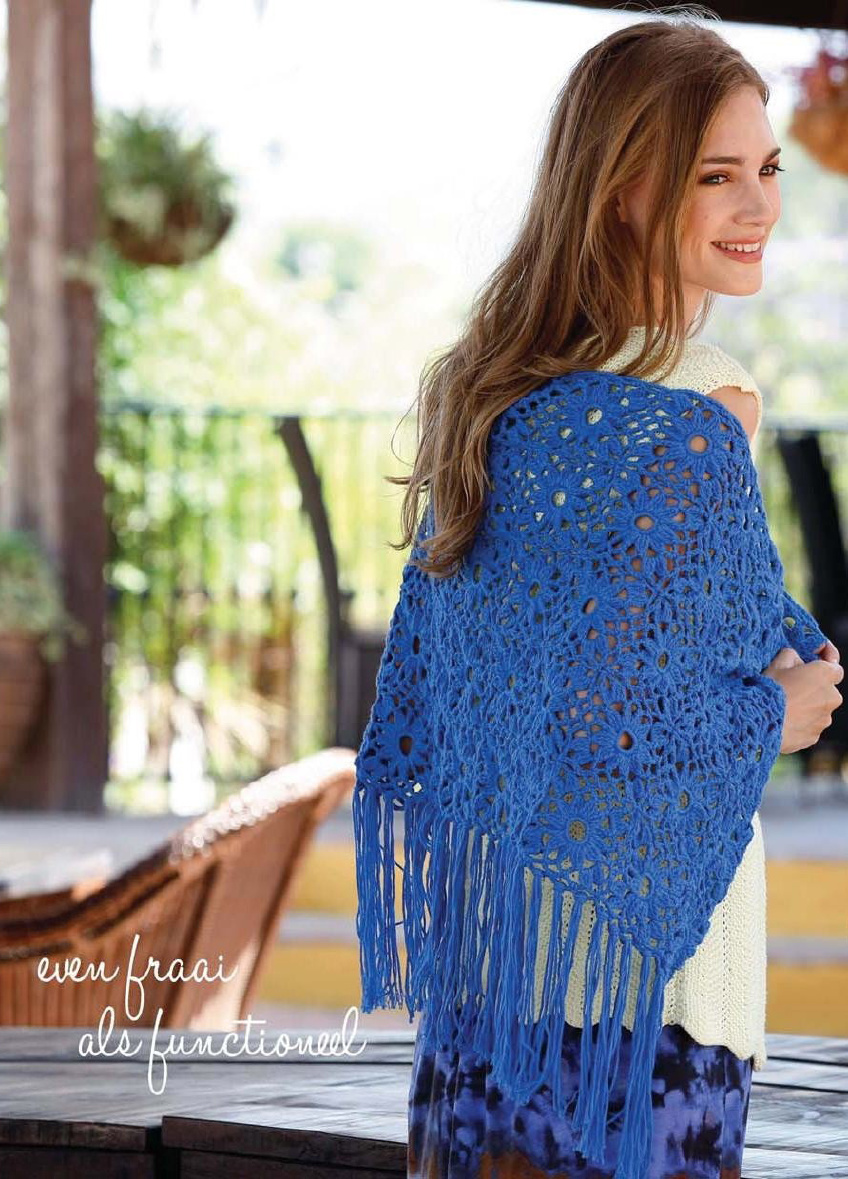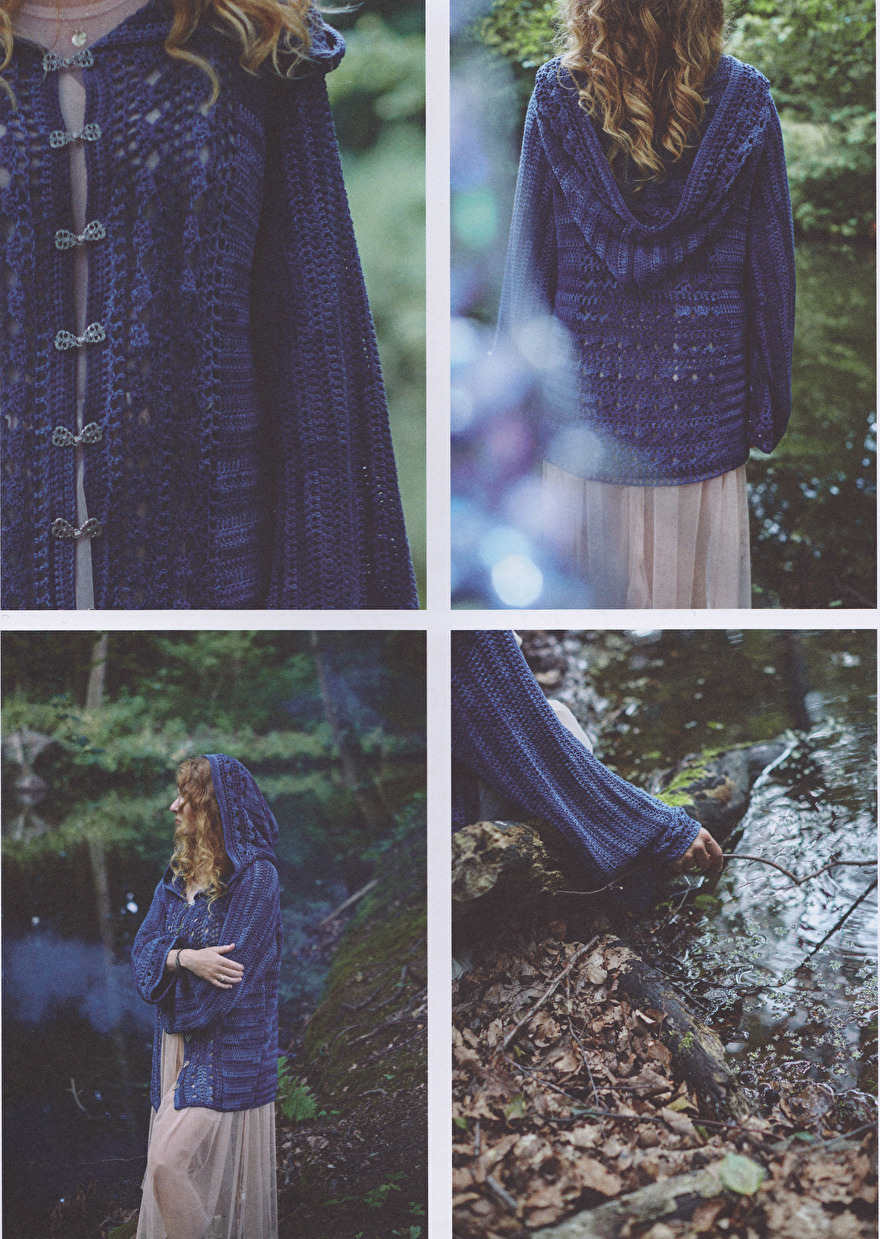 Softfun Denim 500

60% katoen en 40% acryl.
Het garen is geschikt voor naald 3,5 - 4mm.
Steekverhouding 30 st. – 21r = 10 cm.
Bollen van 50 gram – ca. 140 meter.

€ 3,50

Softfun Denim 501

60% katoen en 40% acryl.
Het garen is geschikt voor naald 3,5 - 4mm.
Steekverhouding 30 st. – 21r = 10 cm.
Bollen van 50 gram – ca. 140 meter.

€ 3,50

Softfun Denim 502 - Antraciet

60% katoen en 40% acryl.
Het garen is geschikt voor naald 3,5 - 4mm.
Steekverhouding 30 st. – 21r = 10 cm.
Bollen van 50 gram – ca. 140 meter.

€ 3,50

Softfun Denim 503

60% katoen en 40% acryl.
Het garen is geschikt voor naald 3,5 - 4mm.
Steekverhouding 30 st. – 21r = 10 cm.
Bollen van 50 gram – ca. 140 meter.

€ 3,50

Softfun Denim 504 - Roze

60% katoen en 40% acryl.
Het garen is geschikt voor naald 3,5 - 4mm.
Steekverhouding 30 st. – 21r = 10 cm.
Bollen van 50 gram – ca. 140 meter.

€ 3,50

Softfun Denim 505 - Rood

60% katoen en 40% acryl.
Het garen is geschikt voor naald 3,5 - 4mm.
Steekverhouding 30 st. – 21r = 10 cm.
Bollen van 50 gram – ca. 140 meter.

€ 3,50

Softfun Denim 506 - Groen

60% katoen en 40% acryl.
Het garen is geschikt voor naald 3,5 - 4mm.
Steekverhouding 30 st. – 21r = 10 cm.
Bollen van 50 gram – ca. 140 meter.

€ 3,50

Softfun Denim 507 - Zalm Roze

60% katoen en 40% acryl.
Het garen is geschikt voor naald 3,5 - 4mm.
Steekverhouding 30 st. – 21r = 10 cm.
Bollen van 50 gram – ca. 140 meter.

€ 3,50

Softfun Denim 508 - Licht Bruin

60% katoen en 40% acryl.
Het garen is geschikt voor naald 3,5 - 4mm.
Steekverhouding 30 st. – 21r = 10 cm.
Bollen van 50 gram – ca. 140 meter.

€ 3,50

Softfun Denim 509

60% katoen en 40% acryl.
Het garen is geschikt voor naald 3,5 - 4mm.
Steekverhouding 30 st. – 21r = 10 cm.
Bollen van 50 gram – ca. 140 meter.

€ 3,50

Softfun Denim 510 - Donker Bruin

60% katoen en 40% acryl.
Het garen is geschikt voor naald 3,5 - 4mm.
Steekverhouding 30 st. – 21r = 10 cm.
Bollen van 50 gram – ca. 140 meter.

€ 3,50

Softfun Denim 511 - Licht Grijs

60% katoen en 40% acryl.
Het garen is geschikt voor naald 3,5 - 4mm.
Steekverhouding 30 st. – 21r = 10 cm.
Bollen van 50 gram – ca. 140 meter.

€ 3,50

Softfun Denim 512

60% katoen en 40% acryl.
Het garen is geschikt voor naald 3,5 - 4mm.
Steekverhouding 30 st. – 21r = 10 cm.
Bollen van 50 gram – ca. 140 meter.

€ 3,50

Softfun Denim 513

60% katoen en 40% acryl.
Het garen is geschikt voor naald 3,5 - 4mm.
Steekverhouding 30 st. – 21r = 10 cm.
Bollen van 50 gram – ca. 140 meter.

€ 3,50

Softfun Denim 514

60% katoen en 40% acryl.
Het garen is geschikt voor naald 3,5 - 4mm.
Steekverhouding 30 st. – 21r = 10 cm.
Bollen van 50 gram – ca. 140 meter.

€ 3,50

Softfun Denim 515

60% katoen en 40% acryl.
Het garen is geschikt voor naald 3,5 - 4mm.
Steekverhouding 30 st. – 21r = 10 cm.
Bollen van 50 gram – ca. 140 meter.

€ 3,50

Softfun Denim 516

60% katoen en 40% acryl.
Het garen is geschikt voor naald 3,5 - 4mm.
Steekverhouding 30 st. – 21r = 10 cm.
Bollen van 50 gram – ca. 140 meter.

€ 3,50

Softfun Denim 517

60% katoen en 40% acryl.
Het garen is geschikt voor naald 3,5 - 4mm.
Steekverhouding 30 st. – 21r = 10 cm.
Bollen van 50 gram – ca. 140 meter.

€ 3,50

Softfun Denim 518 - Geel

60% katoen en 40% acryl.
Het garen is geschikt voor naald 3,5 - 4mm.
Steekverhouding 30 st. – 21r = 10 cm.
Bollen van 50 gram – ca. 140 meter.

€ 3,50

NIEUW!

Softfun Denim 519 - Oranje

60% katoen en 40% acryl.
Het garen is geschikt voor naald 3,5 - 4mm.
Steekverhouding 30 st. – 21r = 10 cm.
Bollen van 50 gram – ca. 140 meter.

€ 3,50

NIEUW!

Softfun Denim 520 - Donker Geel

60% katoen en 40% acryl.
Het garen is geschikt voor naald 3,5 - 4mm.
Steekverhouding 30 st. – 21r = 10 cm.
Bollen van 50 gram – ca. 140 meter.

€ 3,50
Knotje.nl