| | | | | | | | | | |
| --- | --- | --- | --- | --- | --- | --- | --- | --- | --- |
| | Veilig betalen | | Snelle levering | | Scherp geprijsd | | Klantvriendelijke site | | Persoonlijk |
Poncho of Vest "PORCELAIN" (ontwerp: Kaffe Fassett) maakt u met Rowan Handknit Cotton.
ROWAN Handknit Cotton (8 PLY) is een gemakkelijk te onderhouden garen van 100% katoen dat zacht aanvoelt en een klassieke allrounder is. Verkrijgbaar bij Knotje.nl in 23 kleuren.
Model en patroon staan beschreven in de Rowan Magazine 63.
Een prachtig boekwerk in het Engels. De patronen zijn vertaald.
Het garen is onderaan deze pagina te bestellen. Patronenboek is NIET meer verkrijgbaar.
U ontvangt GRATIS het patroon bij uw bestelling van dit project.

Op zoek naar meer brei- en/of haakinspiratie? Klik dan HIER! <---
U vindt hier meer dan 2500 prachtige DIY voorbeelden die u kunt maken met de garens uit onze webwinkel.

Onder de 2 foto's vindt u meer informatie en de benodigdheden voor dit project.
Heeft u vragen? Mail ons naar info@knotje.nl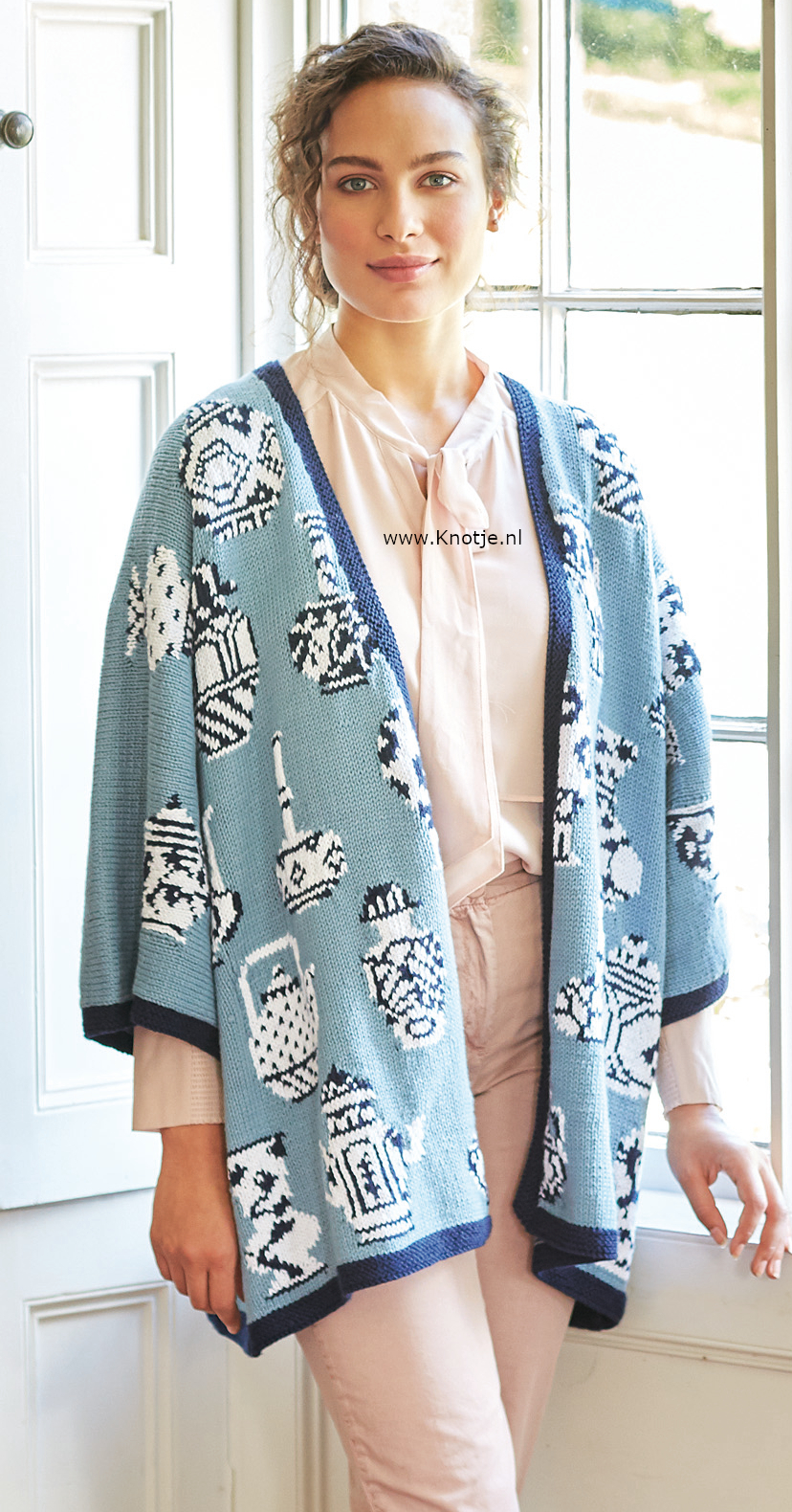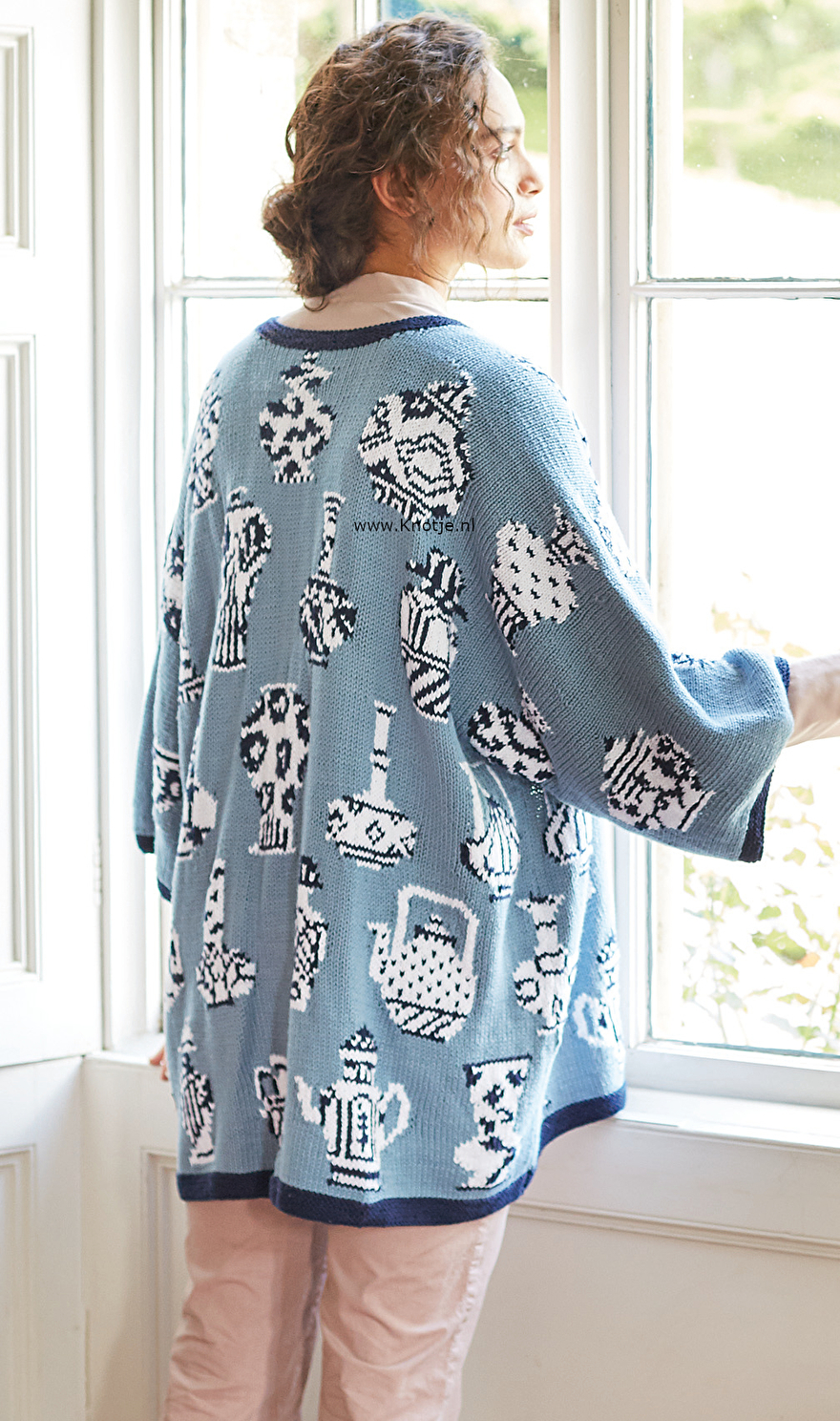 Gebruikte breinaalden 3 1/2 en 4 mm.
Rondbreinaald 3 1/2 mm kabel van tenminste 120 cm lang.

Gebruikte garen en kleuren zoals op de afbeelding;
ROWAN Handknit Cotton kleur 239 Ice Water, kleur 263 Bleached en kleur 277 Turkish Plum.

Niet uw kleur? Of maken in uw favoriete kleur? Dat kan.
Wij hebben de ROWAN Handknit Cotton beschikbaar in 23 prachtige kleuren.
Deze bollen vindt u in onze webwinkel HIER.
(Ook voor meer prachtige projecten gemaakt met dit garen)

Het kan een keer voorkomen dat wij niet genoeg bollen op voorraad hebben.
Mail ons dan naar info@knotje.nl Dan komen wij samen tot een oplossing.

De benodigdheden voor dit project zoals afgebeeld;

1 Maat (Werkelijke borstwijdte 145 cm)
11 bollen ROWAN Handknit Cotton kleur 239,
5 bollen ROWAN Handknit Cotton kleur 263 en
6 bollen ROWAN Handknit Cotton kleur 277.

Wij geven het patroon GRATIS bij uw bestelling van de bollen voor dit project.
Vermeld aub "MAG63-PORCELAIN" bij uw bestelling als opmerking.
ROWAN Handknit Cotton 239 Ice Water

∙ 50 gram
∙ 8ply
∙ ca. 85 meter
∙ 100% Katoen
∙ Naalden 4 - 4 1/2 mm
∙ Proeflap 10x10cm = 19/20 steken en 28 rijen
∙ alle seizoenen
∙ Wasbaar tot 40 graden. (niet in de droger)

€ 5,95

ROWAN Handknit Cotton 263 Bleached

∙ 50 gram
∙ 8ply
∙ ca. 85 meter
∙ 100% Katoen
∙ Naalden 4 - 4 1/2 mm
∙ Proeflap 10x10cm = 19/20 steken en 28 rijen
∙ alle seizoenen
∙ Wasbaar tot 40 graden. (niet in de droger)

€ 5,95

ROWAN Handknit Cotton 277 Turkish Plum

∙ 50 gram
∙ 8ply
∙ ca. 85 meter
∙ 100% Katoen
∙ Naalden 4 - 4 1/2 mm
∙ Proeflap 10x10cm = 19/20 steken en 28 rijen
∙ alle seizoenen
∙ Wasbaar tot 40 graden. (niet in de droger)

€ 5,95
Knotje.nl