| | | | | | | | | | |
| --- | --- | --- | --- | --- | --- | --- | --- | --- | --- |
| | Veilig betalen | | Snelle levering | | Scherp geprijsd | | Klantvriendelijke site | | Persoonlijk |
Deze damesbroek (ontwerp: Lisa Richardson) maakt u met Rowan Alpaca Soft DK.
Alpaca Soft DK is een premium mengsel van 70% extra fijne merino en 30% baby alpaca.
Bij Knotje.nl verkrijgbaar in 25 tinten.

Model en patroon staan beschreven in ROWAN - Mode at Rowan - Collection Three.
Een prachtig boekwerk in het Engels en Duits. De patronen zijn vertaald.
Het garen en patronenboek zijn onderaan deze pagina te bestellen.
U ontvangt GRATIS het patroon bij uw bestelling van het garen bij dit project.

Op zoek naar meer mooie DIY brei- en/of haakinspiratie? Klik dan HIER! <---
U vindt hier meer dan 2500 prachtige DIY voorbeelden die u zou kunnen maken met de garen die wij verkopen.

Onder de 2 foto's vindt u de benodigdheden en meer informatie voor dit project.
Heeft u vragen? Mail ons dan naar info@knotje.nl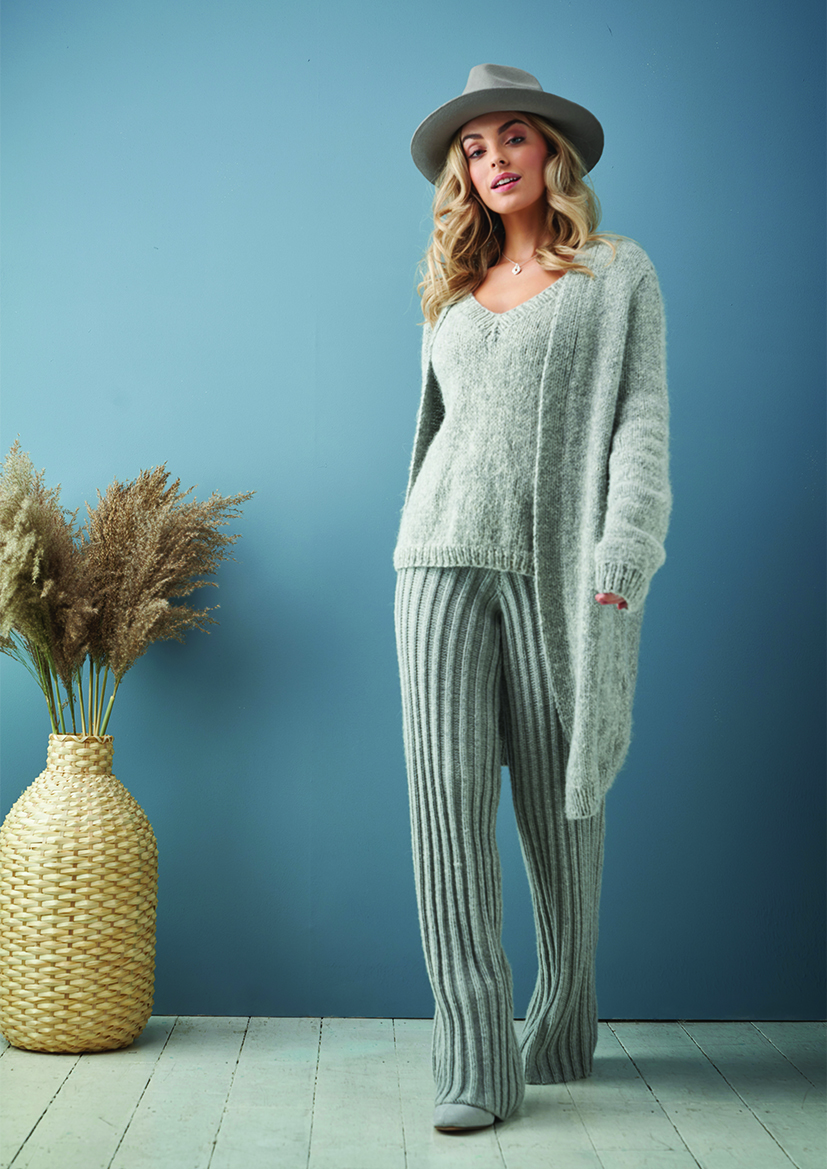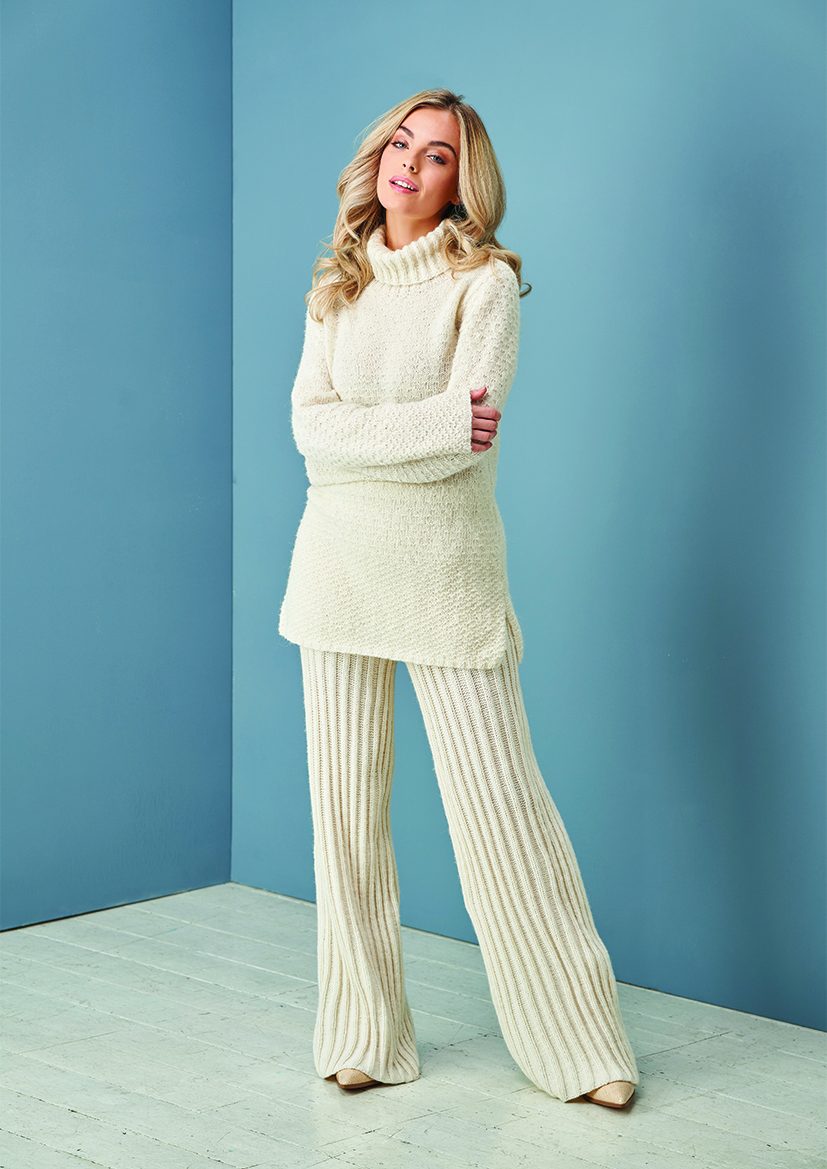 Gebruikte rondbreinaalden 3 1/2 en 4 mm.
2 x Kabel niet langer dan 70, 70, 80, 80 of 90 cm. (Verschilt per maat)
1 kabel niet langer dan 40, 40, 50, 50 of 60 cm. (Verschilt per maat)
Steekmarkeerders.

Gebruikte garen en kleur zoals afgebeeld;
ROWAN Alpaca Soft DK kleur 201 Simply White (onder) of Alpaca Soft DK kleur 210 Rainy Day (boven).

Niet uw kleur? Maken met een andere kleur?
Dus wil u dit project met andere kleuren maken dan kan dat.
Wij hebben de Rowan Alpaca Soft DK beschikbaar in 25 kleuren.
Die vindt u in onze webwinkel HIER. (Ook voor meer DIY projecten gemaakt met dit garen)

Het kan een keer voorkomen dat wij niet genoeg bollen op voorraad hebben.
Mail ons dan naar info@knotje.nl Dan komen wij samen tot een oplossing.

De benodigdheden voor deze gebreide broek zoals afgebeeld;
(PLUS taillelengte met 2 1/2 cm breed elastiek)

Maten S en M (heupwijdte 86-102 cm);
14 bollen Rowan Alpaca Soft DK.

Maten L en XL (heupwijdte 101-122 cm);
15 bollen Rowan Alpaca Soft DK.

Maat XXL (Heupwijdte 127-132 cm);
16 bollen Rowan Alpaca Soft DK.

Het patroon krijgt u GRATIS bij uw bestelling van het garen voor dit project.
Vermeld u bij uw bestelling "MAR3-003Broek" aub als opmerking.
Rowan Alpaca Soft DK - 210 Rainy Day

Naalddikte: 4mm
Stekenverhouding: 22 steken en 30 toeren (10x10cm)
Gewicht: 50 gram
Looplengte: ca. 125 meter
Samenstelling: 70% extra fijne merino en 30% alpaca
HANDWAS

€ 10,55

Rowan MODE at Rowan – Collection Three

MODE at Rowan – Collection Three - Mode bij Rowan

Fashion Collection Three ..... 16 ontwerpen elk in 2 kleuren.
U vindt de ontwerpen uit dit boek HIER in onze webwinkel. U vindt hier alle DIY informatie om de ontwerpen zelf te…

€ 13,95

Rowan Alpaca Soft DK - 201 Simply White

∙ Naalddikte: 4mm
∙ Stekenverhouding: 22 steken en 30 toeren (10x10cm)
∙ Gewicht: 50 gram
∙ Looplengte: ca. 125 meter
∙ Samenstelling: 70% extra fijne merino en 30% alpaca
∙ HANDWAS

€ 10,55
Knotje.nl