| | | | | | | | | | |
| --- | --- | --- | --- | --- | --- | --- | --- | --- | --- |
| | Veilig betalen | | Snelle levering | | Scherp geprijsd | | Klantvriendelijke site | | Persoonlijk |
Omslagdoek of deken "Snug" (Martin Storey) maakt u met de Rowan Softyak DK.
Softyak van Rowan is een uniek garen dat bestaat uit 76% katoen, 15% yak en 9% nylon.
Dit garen is verbazend zacht en perfect voor de overgang van de seizoenen.
Verkrijgbaar in 21 prachtige kleuren.
Model en patroon staan beschreven in het patronenboek "Rowan - All Year Round by Martin Storey".
Het garen en het patronenboek zijn onderaan deze pagina te bestellen.
U ontvangt het patroon GRATIS bij uw bestelling.

Op zoek naar meer brei- en/of haakinspiratie? Klik dan HIER! <---
U vindt hier meer dan 1500 prachtige voorbeelden die u kunt maken met de garen uit onze webwinkel.

Onder de 2 foto's vindt u meer informatie en de benodigdheden voor dit project.
Heeft u vragen? Mail ons naar info@knotje.nl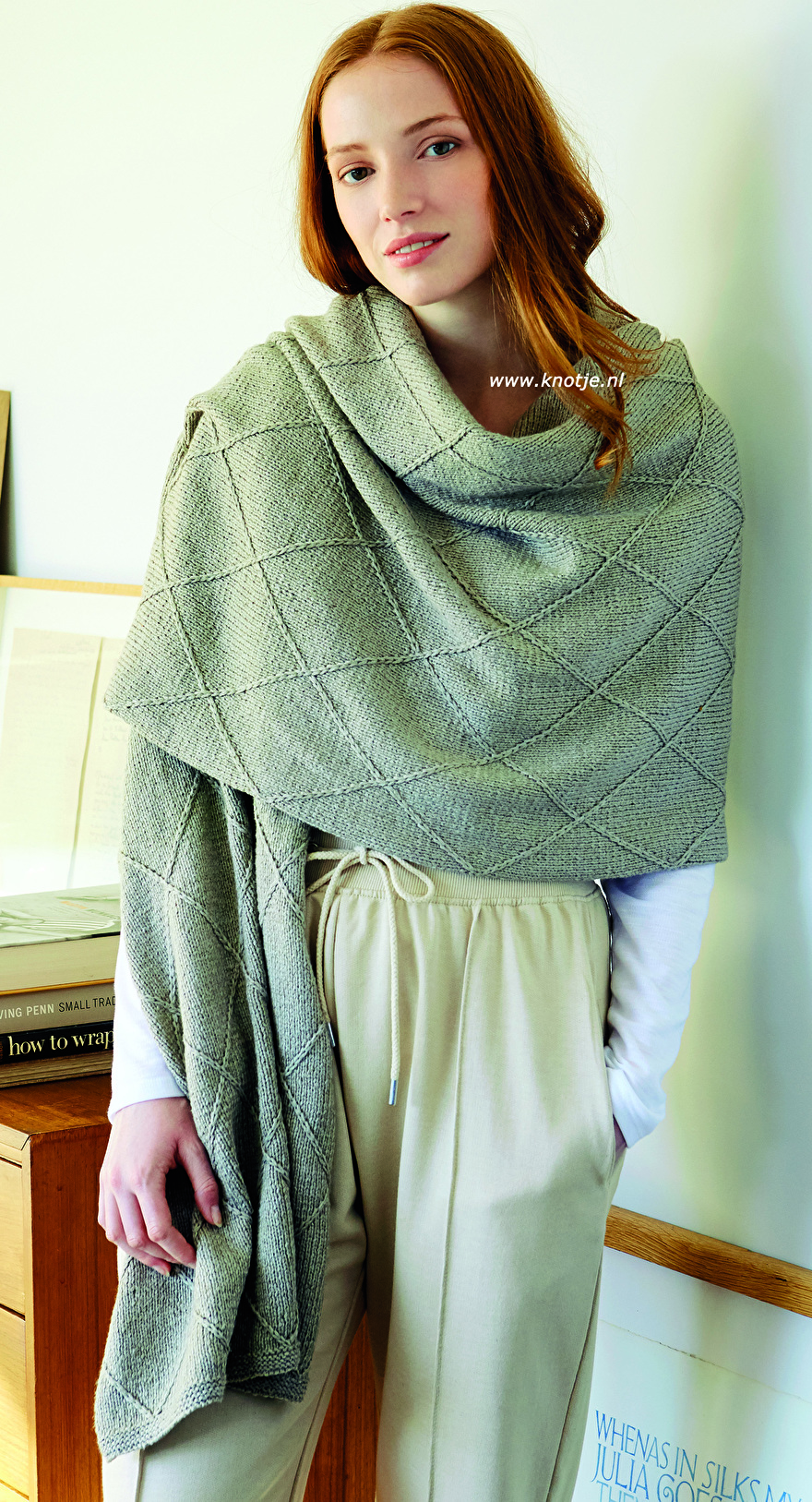 Gebruikte breinaalden 3 1/2 en 4 mm. Kabelnaald.

Gebruikte garen en kleur zoals op de afbeeldingen;
ROWAN Softyak DK kleur 245 Taupe.

Niet uw kleur? Of maken in uw favoriete kleur? Dat kan.
Wij hebben de ROWAN Softyak DK beschikbaar in 21 prachtige kleuren.
Deze bollen vindt u in onze webwinkel HIER.
(Ook voor meer prachtige projecten gemaakt met dit garen)

Het kan een keer voorkomen dat wij niet genoeg bollen op voorraad hebben.
Mail ons dan naar info@knotje.nl Dan komen wij samen tot een oplossing.

De benodigdheden voor dit project zoals afgebeeld;

(De omslagdoek/deken is ca. 66 1/2 cm breed en 197 cm lang)

14 bollen ROWAN Softyak DK.

Wij geven het patroon voor dit project GRATIS bij uw bestelling.
Vermeld aub "RAYR-Snug" bij uw bestelling als opmerking.
Rowan Softyak DK - 245 Taupe

Gewicht: 50 gram
Lengte: ca. 135 meter
Samenstelling: 76% Katoen, 15% Yak, 9% Nylon
Naalddikte: 4 mm
Proeflap: 10 x 10 cm = 22 steken x 30 naalden
Wassen: max. 30 graden
Seizoen: Alle Seizoenen

€ 9,95

Rowan All Year Round by Martin Storey

Rowan All Year Round by Martin Storey.
In dit magazine vindt u 13 ontwerpen terug van Martin Storey, voor vrouwen.
Alle ontwerpen zijn gemaakt met Rowan garens. (Incl. Nederlandse vertaling)

Bekijk het boek bij Rowan. Klik…

€ 15,50
Knotje.nl